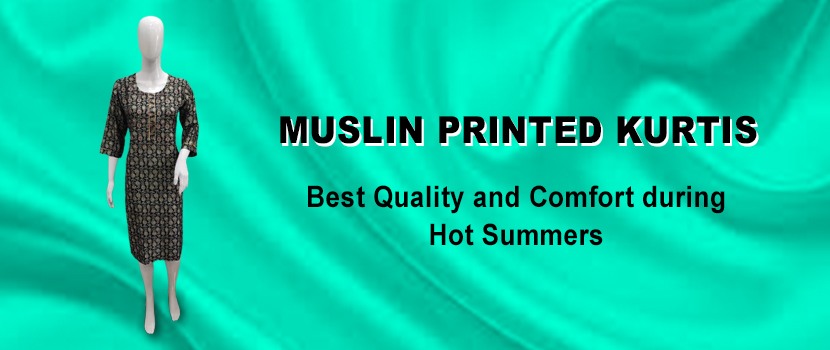 Muslin Printed Kurtis is easily available in the market and assures the best quality. You can look ahead with the amazingly durable fabric.
About Muslin Fabric
Muslin Cotton fabric is considered a rich cotton fabric. It can be used to make absolutely any sort of garment. The fabric is soft and promises an elegant garment flow to the garment. The fabric is broadly used during the summers and for more casual occasions. Muslin Printed Kurtis are quite popular these days due to the last level of comfort.
Properties of the Muslin Fabric
There are different reasons for the fame of the muslin fabric that has been around in the market for the last many years.
Have a look at the main properties of Muslin Printed Kurtis:
• Durability. Despite being called for the best level of softness, muslin is also an amazingly durable fabric. It can endure twisting and pulling without fraying or tearing!
• Breathability. It's a loosely woven and lightweight fabric that allows for airflow, which is one of the reasons several parents use muslin for swaddling little ones.
• Comfort. Muslin is called for the best level of softness which just adds to its best level of comfort.
• Maintenance. When it comes to cleaning and maintaining muslin fabric, the process is rather uncomplicated.
Choose Bold Florals
Summers are related to bold florals and soft hues. The flowery Muslin Set is the ideal workwear to keep you relaxing and comfortable all day. The highly comfortable three-piece set is available with a loose-fit flared kurta with gold katana lacing for the neckline, a scalloped organza dupatta, and same print pants.
The attractive piece of floral prints and the flared design of the kurta will tempt you to twirl around in them continually. As the suit is heavy on prints, style the amazing look with the small size of the jewellery.
Go for solid colored kurta
The classic solid-colored kurta set provides you with an elegant and modest appearance for the low-key festive events. The set specifies a straight kurta with inverted box pleats on the princess line. However, the yoke of the kurtas and sleeves even give an amazing pretty patchwork practice with floral designs. The suit set is matched with a contrasting blue printed dupatta to match the outfit, providing you with a humble and stylish appearance.
Summer Lime Suits
Now, you can create a bold statement with the lime green suit set! The eye-catching three-piece set is available with a lime green kurta and a contrasting red embroidered patch collar and even a hem design. The kurta can be easily paired with straight same-color pants and a green and red printed dupatta. The summer lime suit promises to give a wonderful deal of spirit and vibrancy to the outfit turning you wish to repeat it many times.
Now, it is extremely easy to find the best quality muslin printed kurtis at the best price online.