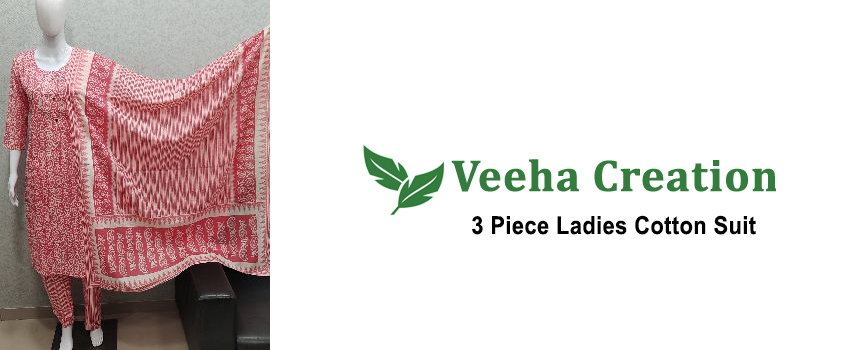 Women's suits have long been an integral part of women's wardrobes. In the latter half of the 12th century, Pakistan and India adopted the salwar kameez. Mongolian and Persian design elements can be seen in the costume. Whatever the occasion, salwar suits are the traditional attire of choice.
Online retailers provide a large selection of 3 Piece Ladies Suit Set made of a variety of materials, including cotton, brocade, velvet, satin, polyester, chiffon, crepe, georgette, and silk. Make sure to get an Indian salwar that will enhance your desi appearance and make you look beautiful.
Choosing The Perfect One -
Many women are unsure about which salwar kameez to buy for forthcoming occasions. There are many different varieties of salwar kameez on the market; choose one that is acceptable for you based on current trends.
The Type Of Occasion -
Daytime and evening events necessitate the selection of various clothing, colors, and patterns. Lighter colors seem better during the day while darker colors look better at night. The number of embellishments and glitter that should be put on your dress is determined by the sort of occasion. A stunning gown will command the complete attention of all your guests.
Salwar suits ladies of all shapes and sizes. Fashion experts feel that this dress may enhance the beauty of any lady, regardless of body form. It is preferable to understand your body type before deciding on an outfit. An Anarkali dress, for example, will flatter an apple-shaped form, and so on.
Choose According To The Shape -
A salwar kameez comes in a wide range of prints. A plain-colored salwar kameez creates the illusion of height. Scattered prints are appropriate for formal gatherings or celebrations. Concentrated prints also give the appearance of height and slimness. Vertical prints might make you appear leaner and taller. To create such illusions, carefully select the type of salwar you want to buy.
Choose The Fabrics Carefully -
To feel comfortable in your dress, choose a fabric that is appropriate for the season. Cotton and poly-cotton fabrics are appropriate for summer events held in a banquet hall or other closed residence. You might also use chiffon, silk, velvet, organza, satin, polyester, and other fabrics. Select textiles that will not cling to your skin.
Select The Right Size -
Purchasing a stylish salwar kameez that fits you well is critical. When shopping for salwar kameez online, carefully study the measurements using the size conversion charts offered on the website. Make certain that you select the suitable size for you. A tight salwar kameez can make you appear strange and plumper.
3 Piece Ladies Suit Set in traditional colors like red, blue, green, and maroon serve to make the dress look magnificent, and ladies appear thinner in such outfits. Women should also try out new hues that are popular right now, such as neons and pastels. There is a wide range of salwar kameez suits on the market. Experiment with different ensembles and up your style game by trying out new looks based on current trends.
Purchasing salwar kameez online may appear to be a difficult undertaking. Depending on the occasion, the latest salwar kameez patterns are available. Choose between what is best for you and what is selling well. Remember the following recommendations to help you choose the perfect salwar suit for the occasion, depending on the event.