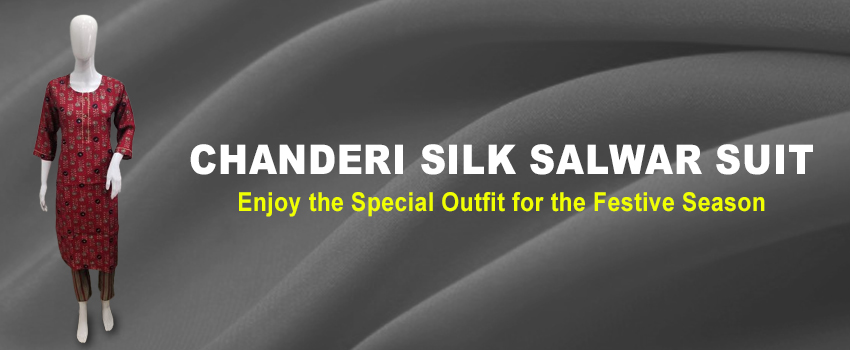 Ladies' Chanderi Silk Salwar Suit can be enjoyed as a special outfit for the festive season. You can look ahead with special designs and color options.
We all are aware of how trends in fashion keep on changing. No matter, whether it is clothes, hairstyles, or even jewelry, women's fashion keeps reinventing itself. A costume should be adapted to different occasions. Meanwhile, Designer Salwar Kameez is rather that will forever suit the occasion. There is something unique about the outfits as they seem to fit into any kind of situation.
New colors and designs keep coming regularly. A pair of designer Lady Chanderi Silk Salwar Suits becomes a hot-selling outfit for the wedding and festive season. There are great designs and varieties offered that people have a hard time zeroing in on the ideal one for the event.
One more thing about these fashionable outfits is that they are really simple to put on and with different heavy sarees and previous dress material, they don't need much time. Fabrics used for the outfits will differ from one season to another. With advanced designers, producing pioneering styles there are ample choices and collections of different age groups.
Go for a traditional Lady's Chanderi Silk Salwar Suit
Are you aware of the fact that Chanderi receives its name from a town in Madhya Pradesh with the same name? The weaving custom of chanderi has a brawny cultural influence and is said to have begun in the second century on the border in the middle of the Malwa and Bundelkhand. If you are looking for some tradition and culture, you can go for traditional Ladies' Chanderi Silk suits.
Unique patterns and designs
Chanderi is available in cotton and silk. The salwar suits are woven with special designs, thread works, prints, and designs, offering you multiple options to select from. From straightforward daily wear to comfortable and grand party wear, chanderi suits are available in various looks and designs, adding a bit of stylishness to all outfits. The handiwork is made into the fabric in different enjoyable patterns, including geometric shapes, traditional coins, peacocks, and floral art.
Budget Friendly Product
Though they might come as news, chanderi suits are quite reasonably priced compared to other conventional fabrics and silks. If you're known about several authentic fabrics and their cost, you will identify that it is pretty difficult to find such rich silks at reasonable prices.
Classy looks
These products are best known for providing a royal and classy look, letting you stand out from other products. However, it is easy to access all over the country; the fabric's real core and nature make it a unique pick. Made with the best stuff such as gold threads, hand-picked cotton, and pure silk, chanderi seems to be natural. If you are looking for a special look for the upcoming festive reason, you can look ahead with an amazing look with a unique chanderi suit!