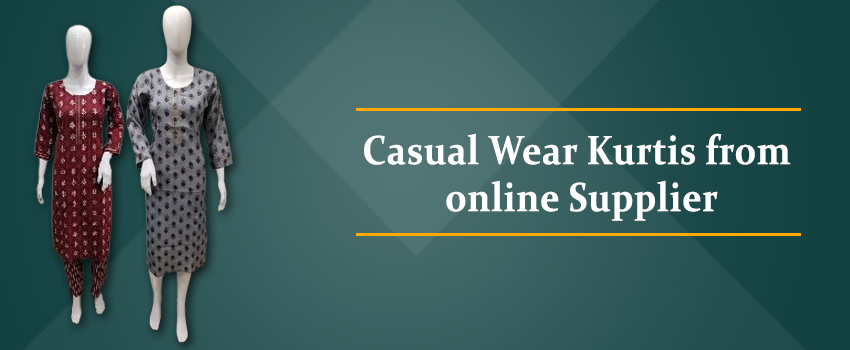 Casual kurtis are one of the most popular clothes among women. These are very lightweight and every girl and woman loves to wear them and feel the comfort of these Kurtis on all occasions. It is one of the most all-purpose and commonly worn attires for women these days.
You cannot forget that casual wear Kurtis is the modified version of the Indian dress 'kameez'. To team up your look you can wear Kurtis with trousers, churidars, jeans, and leggings. You can also look for the best Casual Wear from Kurtis Suppliers online to find the most adorable and fashionable piece. They take care of your comfort.
Here are the reasons that mark the excellence of casual wear Kurtis:
These are Pocket-Friendly Product
Ladies always search for pocket-friendly dresses for regular use. They keep expensive items for parties and special occasions. You can find various types of Kurtis in your budget that fulfill your needs.
These are available as Readymade or Tailor-Made
It is easy to buy readymade Kurtis both online and offline from Casual Wear Kurtis Supplier at various prices. Apart from that you can also buy a dress material and give it the shape of casual wear Kurti. But it may not meet your fashion needs, available with readymade pieces
This Is also a Long Lasting dress
The best cotton casual wear Kurti is not just fashionable but long-lasting also. The trusted suppliers promise the quality that it does not fade after wearing it a couple of times. It remains the same quality for a longer time and you do not have to buy new pieces frequently. This is how you save money in the long run.
Moreover, you can find stylish Kurtis for office, college, meetings, get together online in various styles, designs, and prints.
Easy to Accessorize
Compared to other Indian traditional dresses, casual Kurtis are easy to style. Just wear a simple pair of earrings, bracelets, or bangle with a sleek necklace to complete the whole outfit. You can also wear pumps or flat shoes to look beautiful depending on the occasion.
Occasion Friendly
It is ok to wear Kurtis on a semi-formal occasion, at college, or simply in the office. The Kurtis looks beautiful on every occasion. If you do not know what to wear on occasion, prefer wearing a Kurti. Anybody can carry it anywhere.
Easy to team Kurtis With Palazzos And Cigarette Pants
The finest feature of adding casual wear Kurti to your wardrobe is flexibility. You can pair the dress with anything such as Patiala, leggings palazzos, or jeans. If you want to change the look of casual wear, Kurti, on a formal occasion, wear it with cigarette pants. On other occasions, wear palazzos for a perfect casual look. One more option to spruce up your look is to wear Kurti with skinny jeans.
How to find the best quality casual wear Kurtis?
Contact online casual wear kurtas suppliers to buy high quality. They promise
• Bulk supply
• Affordable price
• Timely delivery
• Nationwide dispatch
• Wider range
• Extensive designs